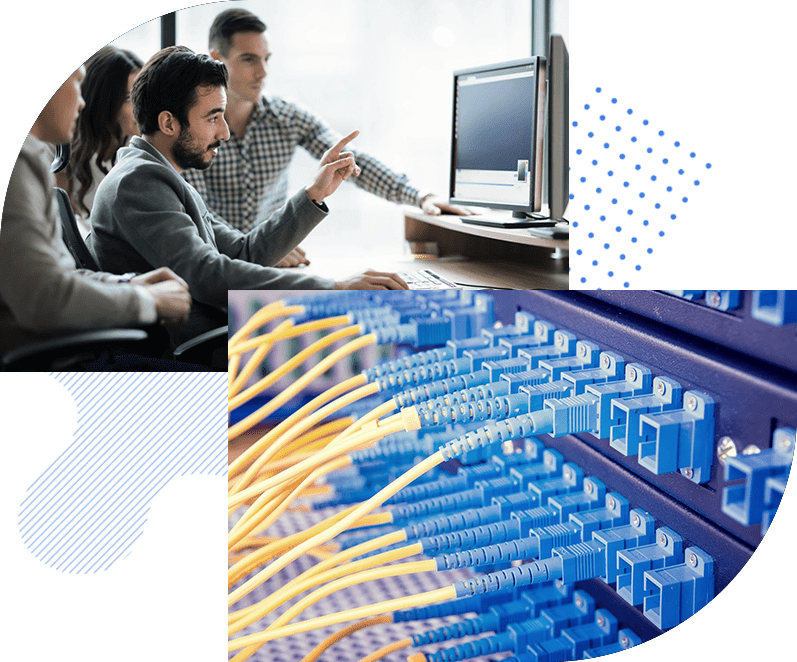 No company is completely immune to an unplanned network outage, but there are solutions that can reduce the likelihood and duration of an outage. Insufficient resources allocated to proactively understanding the burden complex systems place on a network are contributing factors in downtime. Revenue, productivity, and corporate image all depend on the right solution.
Commlan's suite of managed service offerings provides customers with a flexible variety of custom-tailored support options. Commlan offers complete IT management solutions eliminating the burden of managing and maintaining your critical IT systems. We customize a support plan that is tailored to your environment and meets the specific needs of your technology management and support. In addition to proactively monitoring and identifying issues before they become an issue, Commlan offers onsite support for maintenance, remediation, MACs (Moves, Adds, and Changes), and strategic planning sessions assuring optimal IT infrastructure performance.
Commlan's Managed Services feature the following benefits:
Commlan offers complete IT management solutions reducing the burden of managing and maintaining critical IT systems allowing your organization to focus on its core business. We accomplish this through proactive management, securing your IT networks, and monitoring your systems and applications 24 hours a day, 365 days a year. Our investments in best-in-class technologies utilize remote management, automation, centralization, and monitoring tools which are a catalyst for business optimization.
Commlan offers scalable flat-fee pricing for managed services engagements that give you clarity on your yearly IT budget by providing updates on necessary or recommended capital or operational investments, keeping that budget intact. With Commlan, you are assured of accurate budget forecasting, adding value to your business.
Commlan offers scalable flat-fee pricing for managed services engagements that give you clarity on your yearly IT budget by providing updates on necessary or recommended capital or operational investments, keeping that budget intact. With Commlan, you are assured of accurate budget forecasting, adding value to your business.
Commlan TOTAL SUPPORT - 24X7 MONITORING, CUSTOMIZED ALERTS, REPORTING, REMOTE REMEDIATION AND ONSITE ENGINEERING AND SUPPORT
Commlan MANAGED – 24X7 MONITORING, CUSTOMIZED ALERTS, REPORTING, REMOTE REMEDIATION
Commlan MONITORING - 24X7 MONITORING, CUSTOMIZED ALERTS, REPORTING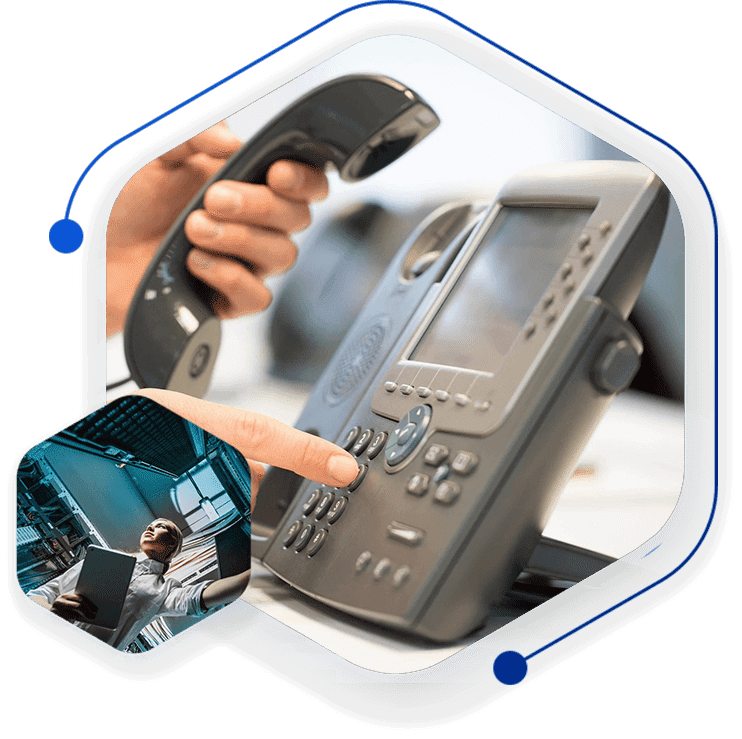 Commlan
Lifecycle Services
Commlan's Life Cycle Services were developed to ensure maximum return on investment, scalability, and efficient technology growth for your organization.
Commlan's planning services seek to incorporate the full spectrum of solution metrics - financial, strategic, technical, operational, user adoption, and communications. Any of our services can be utilized separately, but taken together, they help you create a business model that objectively evaluates all the key elements of your project.
A Design is more than a network diagram and a parts list. A proper design considers the business drivers, technology, services, operational plan, project management, logistics, and a host of other areas that could impact the success of your project. The ultimate goal is to have a solution that addresses your business requirements. Our Design process creates those detailed, step-by-step models that increase your ability to achieve your business objectives.
Commlan has several staging facilities throughout the region that enables you to view the solution in a contained environment, fully test the operations, and preserve your precious office space. Your staff is encouraged to take part in the configuration and testing process and have access to hands-on solutions training in a non-production environment.
As part of any project, Commlan will create an efficient, scalable, and quality-controlled deployment process to minimize Onsite configuration costs while coordinating logistics on delivery and implementation. All solutions are documented while we integrate your solution into your IT lifecycle while utilizing our national deployment capability with certified engineers.
Converged Infrastructures often consist of multiple technologies and multiple vendors. A single OEM can not provide the proper Day 2 support. Commlan combines OEM support programs with custom support elements to build a more appropriate day 2 support offering. We provide true SLAs for performance, with the ability to include MAC services. We also retain OEM hotline support in addition to the Commlan On-Demand model to minimize your costs.
Optimization services provide ongoing support based on a continuous improvement process to ensure your solution and infrastructure continue to meet your business requirements as you grow. These proactive management & optimization services provide Online, real-time visibility into infrastructure performance with a client portal to view SLA management & resolution.
Commlan can design your infrastructure to automatically provide for upgrades and enhancements in a cost-efficient & productive fashion. Unlike pure Out-Sourcing solutions, you will remain current with the technology. Unlike pure leasing solutions, the upgrade path can be integrated into the life cycle to ensure timely upgrades, with deployment & support costs included. The Commlan program will plan for the disposition of the old assets and include cost recovery where applicable. Ultimately, upgrade costs are managed more effectively.
Business Continuity/Disaster Recovery
IT Disaster
Recovery Services
If your organization suffered from an unexpected crisis impacting your facility, systems, and IT infrastructure, would you be ready to lead a recovery effort?
Traditionally, if a server went down, operations were transferred to another physical server. A significant amount of time could be spent configuring this server to take over organizational IT operations. Ever-increasing recovery time objectives now allow nearly instantaneous recovery if a redundant replica is stored securely offsite and the appropriate software is used to recover this stored data. This is the core of IT disaster recovery in a virtual environment.
Disaster Recovery vs.
Business Continuity
"Recovery" in Disaster Recovery implies that you should be able to "Recover" from a disaster or interruption related to your systems, applications, and data. "Continuous" in Business Continuity is uninterrupted in time; without cessation." Uninterrupted service and access for the entire organization should be a focus for your company, allowing nearly instantaneous recovery and minimizing costs associated with operational downtime.
Commlan has an innovative and cost-effective Business Continuity and Disaster Recovery (BC/DR) solution for small and mid-sized organizations, precisely meeting your organization's needs.
Commlan's BC/DR solution offers instant failover server virtualization and full image block-level transfer for more efficient and reliable backups. Incremental snapshots can be taken as often as every 5 minutes for increased recovery point objectives, and multiple replication schemes allow replication to your own secondary sites or our data centers.
Commlan's solution is a fully managed solution that is monitored and administered 24x365, and our solution acts as offsite backup storage and a complete offsite BC/DR solution!
Increasingly, Small/Medium Businesses and Enterprises are struggling to navigate an ever-changing and complex environment. They must integrate new technologies and applications with limited resources and improve how they store and manage data. They must also stay current with technology and security standards as well as closely manage project timelines and costs.
Commlan can help turn such challenges into a business advantage. Our IT Professional Services have helped SMBs and Fortune 500 conquer the present challenges associated with managing dispersed technologies and evolving business processes, maintaining consistent application performance, and providing secure access to information.
We offer a modular portfolio of solutions, including Cloud, Data Center, Business Continuity/Disaster Recovery, Virtualization, Storage, and Application Infrastructure and Performance. Commlan's professional services are all delivered by Program and Project Management experts.
Whether you need to improve the experience of your end-users, reduce time-to-market, support a scalable environment, expand your e-commerce capabilities, ensure availability, or introduce new applications to meet changing business goals, our experts can not only implement customized solutions to address your technology needs but also monitor and manage their performance freeing up your resources, allowing you to focus on your core business.